Insurance Agency Taylors South Carolina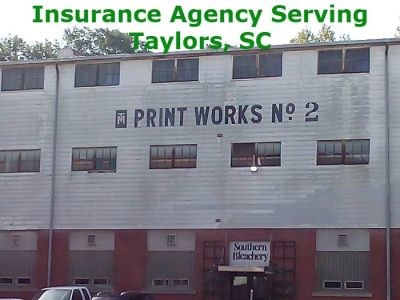 Insurance agency Taylors, SC- The Morgano Agency
Insurance agency Taylors
- At the Morgano Agency, we pride ourselves on being an independent insurance agency that works for you to supply you insurance in Taylors and surrounding areas. Our insurance agents serve individuals, households, and businesses in
Taylors South Carolina
. By representing multiple insurance providers, our insurance agents can discover the ideal blend of service, rate, and coverage to meet your insurance needs
Our insurance agency
has been providing individualized and prompt service to each of our clients since 1998, and we have done whatever we can to prepare our clients for the future by offering the best possible insurance coverage. We want to assist secure your future by preparing you for any possible circumstance that might develop, whether it be planned or unforeseen. Our insurance agency can help you get the insurance protection you require based on your specific needs and budget. Understanding that your risks are covered will offer you peace of mind. Our insurance agents in Taylors will supply a totally
free insurance quote
on any of our insurance services.
As an
Independent Insurance Agency
, we have provided some of our best insurance companies for your online fast quotes. If you would like a totally free insurance quote and have some questions, do not hesitate to reach out to our insurance agents. We have an experienced group of insurance agents that would be glad to learn what your insurance needs are, reveal to you a few of the very best readily available insurance plans, take the time to check out any of the information, and provide you with our recommendations for the best insurance policy for your requirements.
Our independent insurance
agents deal with you after getting to know your requirements to go and offer a free quote over the very best insurance rates. We strive to supply personalized services for your custom insurance needs. We aim to always offer the very best customer service in upstate South Carolina Please feel free to drop in our office or you could browse our comprehensive insurance services and products online. When you are ready to get started contact us today and speak to one of our knowledgeable representatives. When it comes to SC insurance you can`t beat our coverage choices or our personalized insurance alternatives that dealt with your specific requirements.
Personal insurance coverage choices in Taylors South Carolina.
The Morgano Agency supplies a wide range of
personal insurance policies
. No matter what type of personal insurance coverage you are looking for, you want to make certain it's inexpensive and has the protection you need. Whether you are looking for home insurance, or health insurance, or are getting ready to enter into a lease contract and require renters insurance, we can assist. The Morgano Agency is committed to supplying you with a range of insurance solutions so that you can make the very best choice for your insurance needs
Some of our personal insurance policies consist of:
Homeowners Insurance Taylors
Whether you reside in the town or you're further off the beaten path, you're part of a securely knit neighborhood in Taylor. Something many local residents and homeowners share in common is the desire to improve their living requirements, not simply keep them. Speak to a
Taylors home insurance agent
and consider the benefits of working with an independent insurance broker to find the best home insurance policy for your home in Taylors, SC.
Life Insurance Taylors
Starting your life in Taylor with a brand-new family? Preparation for retirement? Have long-lasting financial obligations that your loved ones would have a hard time covering without your income? Much like house owners, numerous citizens know the time has actually pertained to acquiring
life insurance
protection. they're just unsure what type of policy is right for them. You could attempt to check out and ask around for basic advice, however, our Taylors life insurance agents can do you one better. They'll help you rapidly and with confidence determine the best policy for your family and personal top priorities.
Auto Insurance Taylors
The Morgano Agency specializes in helping people choose the right
auto insurance
for their needs in Taylors experienced insurance agents take the time to understand the customer's driving habits and lifestyle in order to recommend the best policy. In South Carolina, all drivers must carry liability-only coverage, but our insurance agency can also help you get comprehensive physical damage coverage and collision coverage.
Looking for auto insurance quotes in Taylors, SC?
The Morgano Agency offers free quotes on all of our auto insurance products and services in Taylors, so you can be sure you're getting the best possible rate. Contact one of our insurance agents today to get a quick quote or to answer any questions you may have.
Renters Insurance Taylors
At The Morgano Agency, we know the primary concerns when renting a home or apartment.
Renter's insurance
protects you from a range of threats and dangers that could occur in a rented unit. By purchasing renter's insurance, you're covering yourself against several things like fireplaces, lightning, riots, aircraft, vehicles, smoke, windstorms, vandalism, theft, falling objects, water damage, electrical damage, and a number of other problems.
If you need aid planning what personal insurance policies you need we would be glad to have an agent speak to you to discuss the cost and scope of insurance coverage for any policies you might be taking a look at getting.
Business insurance Taylors
From safeguarding your business and income to simplifying the intricacies of getting
business insurance coverage,
our group of knowledgeable insurance agents is here to be a resource and assistance advocate for your business insurance needs. Most notably, we're here to assist you to take control of your business insurance and offer the best coverage at an inexpensive price. We will have an insurance agent dedicated to assisting you with any concerns you might have involving business insurance. We will constantly be glad to supply a business insurance quote for any kind of
business insurance you might need in Taylors, SC.
Some of our commercial business policies include:
General liability insurance Taylors, SC
Every business needs to protect itself from accidents or injuries that may occur on its business grounds. One way to do this is to have
General Liability insurance
coverage, which can protect your South Carolina business from these unexpected expenses. There are many different plans and options when choosing a General Liability plan, and our experienced agents at The Morgano Agency can assist you in finding the right plan for the right budget. If you have the right liability insurance plan in place, you can be protected from the financial burden of a lawsuit. Certain Greenville, South Carolina businesses face more risk of accidents or injuries, so doing an analysis of your business can help in finding the best General Liability plan that fits your needs.
The Morgano Agency has the experience and knowledge to help you find the best possible coverage for your Taylors business. Contact us today to get started.
Workers` Comp Insurance Taylors South Carolina
The Morgano Agency can offer many different insurance programs for different industries in South Carolina, in order to customize a package that fits your needs and industry. We take a proactive approach to our clients' Workers' Compensation challenges. Our experienced insurance agents will work to reduce your insurance costs, thereby saving you money this year and for years to come.At the Morgano Agency, we understand that every business is different. We'll work with you to tailor a workers' compensation insurance policy that meets the specific needs of your business - no matter what industry you're in. South Carolina businesses are required to have workers' compensation insurance, but that doesn't mean you have to overpay. Let us help you find the right policy at the right price.
Commercial auto insurance Taylors
Commercial auto insurance
protects your vehicles from physical damage and liability coverages for amounts, situations, and usage not covered by a personal auto policy. This type of business insurance covers a variety of vehicles and is also referred to as commercial car insurance, truck insurance, or fleet insurance. Our agents at The Morgano Agency will help you find the best coverage you need for your business. Why do you need South Carolina Commercial Auto Insurance?
In general, if an auto is used in tasks related to the operator's occupation, profession, or business, other than commuting, a commercial policy is necessary.
If you are using your auto to transport goods or people for a fee or if you use your auto to conduct a service, you may need a commercial auto insurance policy. A commercial auto policy may be appropriate if you need higher limits of liability because of the nature of your work.
Commercial property insurance Taylors, SC
Commercial property insurance
protects the building your business owns or rents, as well as your company's equipment, computers, tools, and furniture. The Morgano Agency's agents can evaluate your commercial property insurance needs to find the best coverage for your liabilities and risks.
We can also tailor a broad protection policy to fit your commercial property needs. Our goal is to design a package that fits your specific risks and gets your business up and running if disaster strikes. We can then provide you with a customized plan that takes into consideration your needs, past loss history, prevention efforts, and precautions you have taken for safety control.
The Morgano Agency offers comprehensive commercial property protection in Taylors, South Carolina. Let us help you choose the right coverage for your business.
Professional liability insurance Taylors
At The Morgano Agency, we have the experience to evaluate the risks associated with your service or consultative-related business or profession in South Carolina and provide appropriate coverage through one of our highly-rated insurance companies.
Professional Liability Insurance
(PLI) is a form of liability insurance necessary to help protect businesses in the service or consultant industry. A claim of negligence can be very damaging to a growing business and if the claim results in monetary damages, it can be catastrophic.
Professional Liability can take on different forms or names. Some of the types of coverage included are:
Fidelity
Foreign Liability
Medical Professional
Pollution Liability
Protecting Businesses in Taylors, South Carolina
Professional Liability Insurance covers potential losses that are not typically covered by a general liability policy. Some of the businesses/professionals we help are:
Insurance Agents
Consultants
Brokers
Lawyers
Engineers
Accountants
Medical
Why picking The Morgano Agency is the ideal choice for an insurance agency in Taylors.
Being an
independent insurance agency
permits us to look around for you between several insurance providers to find the very best insurance coverage that works for your situation and budget. Unlike a few of the big-name insurance carriers, we can personalize our services and look for you instead of providing you with a one-size-fits-all policy. We will provide you with the insurance information about the different policies the insurance companies are presently providing so you can choose which insurer provides you with the very best insurance policy for your needs.
Our experienced insurance agents take the time to listen to your particular needs and by searching numerous insurance carriers we will do all of the effort to discover what works best for you. We take the time to explain all of the different choices and ensure you are comfortable with your insurance policy. Our insurance agency prides itself on the customer experience.
What are the benefits of dealing with an insurance broker from an independent insurance agency in Taylors, SC?
An independent insurance agent can assist you to find the best insurance coverage at the most affordable costs by shopping around with a variety of insurance companies. With access to various insurance markets, an independent agent can discover the right policy and coverage at a rate that fits your budget. Contact us for quotes on South Carolina insurance no matter your location.
The Morgano Agency is devoted to Taylors South Carolina and all of the upstate of SC
The Morgano Agency is passionate about providing the best possible service to the Taylors, SC location and all of South Carolina. We take excellent pride in our work and the relationships we have actually constructed with our clients by providing them with quality insurance. We feel privileged to be a part of this community and to be able to serve its locals and businesses. We want to constantly be the suggested regional insurance agency of option in Taylors, SC.
The Morgano Agency serves all of the upstate of South Carolina. Below is a list of some other towns and communities we serve.