Overbrook Community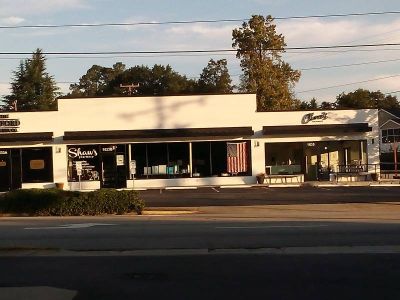 Welcome to the vibrant and historic neighborhood of Overbrook in Greenville, SC. Nestled just north of downtown, Overbrook is a charming community that offers a blend of rich history, modern amenities, and a strong sense of belonging. In this article, we will explore what makes Overbrook a beloved neighborhood and delve into its local lifestyle, dining and entertainment options, shopping opportunities, and the excellent schools that make it an ideal place to call home.
What to Love about Overbrook
Overbrook has captured the hearts of residents and visitors alike for generations. One of the neighborhood's standout features is its rich history, which dates back to the early 20th century. Developed in the 1920s and 1930s, Overbrook boasts an array of beautifully preserved historic homes that exude character and charm [2]. The tree-lined streets and well-maintained properties create a picturesque setting, providing a sense of nostalgia and timeless beauty [5].
Local Lifestyle: Living in Overbrook offers a unique blend of suburban charm and urban convenience. The neighborhood's proximity to downtown Greenville allows residents to enjoy easy access to an array of cultural, entertainment, and recreational opportunities. Overbrook's walkability to shops, restaurants, and parks enhances the overall quality of life for its residents [3]. The sense of community is strong in Overbrook, with friendly neighbors and community programs that foster a welcoming atmosphere [7].
Dining, Entertainment, and Shopping
Overbrook presents an array of options for dining, entertainment, and shopping, catering to diverse preferences and tastes. Fork and Plough, a popular eatery in the neighborhood, offers a daily rotating menu featuring unique dishes like duck egg rolls and cornmeal fried catfish, ensuring a delightful culinary experience [3]. The area also boasts Clare's Creamery, a must-visit spot for indulging in delicious homemade ice cream flavors [3]. Overbrook is home to various shops, including Given, a sister-owned store stocked with ethically minded goods, and other establishments that cater to a range of needs and preferences [3].
Schools in Overbrook: For families considering Overbrook as their home, the neighborhood offers access to excellent schools that prioritize education and provide a nurturing environment for students. The proximity to schools such as East North Street Academy and Bob Jones University allows for a convenient commute, fostering a sense of community among families in the area [3].
Overbrook is a neighborhood that beautifully blends history, community, and modern amenities. From its well-preserved historic homes to its welcoming atmosphere and convenient access to downtown Greenville, Overbrook offers a quality of life that is second to none. With its diverse dining options, vibrant entertainment scene, and proximity to excellent schools, Overbrook provides a well-rounded and enriching experience for its residents. Whether you're captivated by its nostalgic charm, its sense of community, or its proximity to
Insurance Agency Overbrook
At The Morgano Agency, we understand the importance of protecting your valuable assets and securing peace of mind for your residents and businesses in the vibrant Overbrook community. Our agency is dedicated to providing exceptional insurance services tailored to meet your unique needs. Here's why choosing The Morgano Agency for all your insurance needs is a smart decision:
Personalized Approach: We believe in building strong relationships with our clients. Our experienced insurance professionals take the time to understand your specific requirements and provide personalized coverage options that align with your goals and budget.

Extensive Coverage Options: We offer a comprehensive range of insurance products to safeguard your investments. Whether it's home insurance, business insurance, auto insurance, or any other coverage you require, we have you covered. Our extensive portfolio ensures that you can find the right policies to protect what matters most to you.

Competitive Rates: We strive to provide cost-effective insurance solutions without compromising on the quality of coverage. With access to multiple reputable insurance carriers, we can compare rates and find competitive pricing options that suit your needs.

Responsive Customer Service: At The Morgano Agency, we prioritize exceptional customer service. Our dedicated team is committed to promptly addressing your inquiries, assisting with claims, and ensuring a smooth insurance experience from start to finish. We are always just a phone call away.

Expertise and Experience: With our years of industry expertise, we have a deep understanding of the insurance landscape. Our knowledgeable agents stay updated with the latest trends and regulations, allowing us to offer informed advice and guidance to help you make well-informed insurance decisions.
Choosing The Morgano Agency means choosing a trusted partner that is invested in your protection and success. We are committed to providing reliable, responsive, and tailored insurance solutions that exceed your expectations. Contact us today to discuss your insurance needs and discover how The Morgano Agency can serve you and the thriving Overbrook community. [8]