The Mills House Wyndham Grand Hotel (Charleston)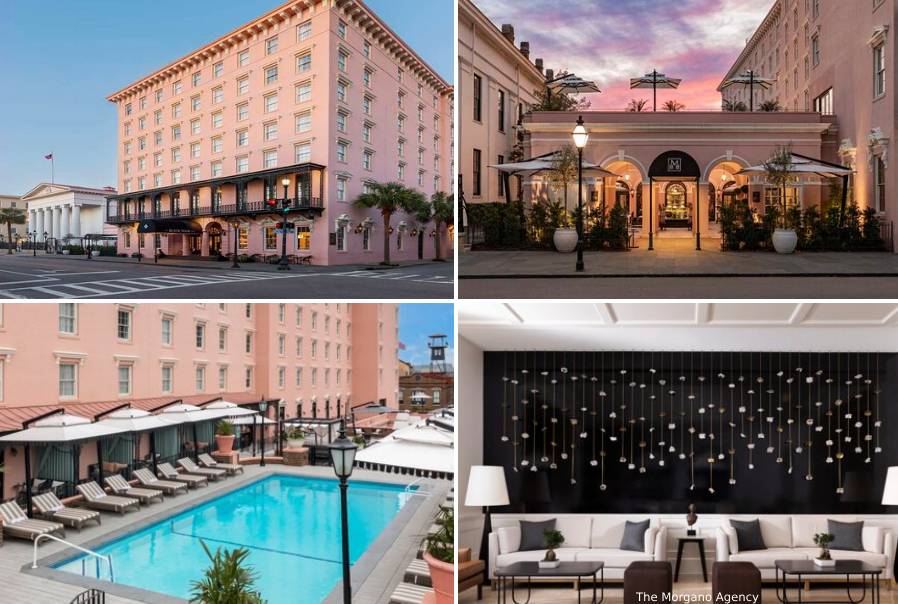 Located in the heart of Charleston's historic district, The Mills House Wyndham Grand Hotel is a captivating destination that seamlessly blends modern comfort with Southern charm. This historic hotel invites guests to experience the rich history, vibrant culture, and renowned hospitality that Charleston is famous for.
The well-appointed rooms at The Mills House provide a welcoming retreat, combining contemporary amenities with classic Southern elegance. From plush bedding to modern conveniences, each room offers a cozy and comfortable space to relax and unwind after a day of exploration. more here
The hotel's courtyard pool provides a tranquil oasis amidst the hustle and bustle of the city. Surrounded by lush greenery and adorned with inviting lounge chairs, the pool area offers a refreshing respite where guests can take a leisurely swim or bask in the warm Charleston sunshine.
For sweeping views of the city, guests can venture to the rooftop bar at The Mills House. With its vibrant atmosphere and expertly crafted cocktails, the rooftop bar provides the perfect setting to unwind and savor the stunning vistas that Charleston has to offer.
The renowned restaurant at The Mills House is a culinary delight, showcasing the flavors of the Lowcountry and beyond. From Southern classics to innovative creations, each dish is prepared with care and precision, using the freshest ingredients available. The inviting ambiance and attentive service ensure a memorable dining experience for every guest.
With its prime location in the historic district, The Mills House offers easy access to Charleston's cobblestone streets, iconic landmarks, and renowned dining scene. Guests can immerse themselves in the city's rich history, visit charming boutiques and art galleries, and indulge in the tantalizing flavors of the local cuisine, all just steps away from the hotel.
The dedicated staff at The Mills House embody the true spirit of Southern hospitality, providing warm and personalized service to make each guest feel welcome and well-cared for. From the moment of arrival to departure, the staff's attention to detail and genuine care contribute to an unforgettable stay in Charleston.
In summary, The Mills House Wyndham Grand Hotel in Charleston is a charming and historic hotel that combines modern comfort with Southern hospitality. With its well-appointed rooms, courtyard pool, rooftop bar, and renowned restaurant, it offers a delightful retreat in the heart of the city's historic district. From exploring Charleston's cobblestone streets to indulging in its culinary delights, The Mills House provides a memorable experience for guests seeking to immerse themselves in the charm and allure of this historic city. view more