Commercial Auto Insurance Greenville, South Carolina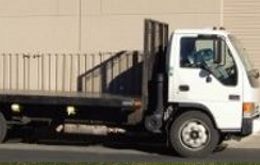 Commercial Auto Insurance insures your vehicles for physical damage and liability coverages for amounts, situations, and usage not covered by a personal auto policy. This type of business insurance covers a variety of vehicles and is also referred to as commercial car insurance, truck insurance, or fleet insurance. Our agents at The Morgano Agency will help you find the best coverage you need for your business.
Why do you need South Carolina Commercial Auto Insurance?
In general, if an auto is used in tasks related to the operator's occupation, profession or business, other than commuting, a commercial policy is necessary.
If you are using your auto to transport goods or people for a fee or if you use your auto to conduct a service, you may need a commercial auto insurance policy.
A commercial auto policy may be appropriate if you need higher limits of liability because of the nature of your work.
Hauling a considerable weight in tools or equipment or towing a trailer used to conduct your business may require a commercial auto insurance policy.
A commercial insurance policy may be needed if employees operate the auto or if ownership is in the name of a corporation or partnership
No matter if you have one work truck or a small fleet of delivery vehicles, your commercial car insurance policy can provide coverage up to your policy limit for:
emergency care expenses
property damage
medical bills
vehicle damage
gap coverage on financed and leased vehicles
legal fees
Business car insurance can provide more peace of mind by giving you the coverage you need. Even if you only have one car for all your transportation needs, you`re still exposed to different risks when driving for business than for personal reasons. You may need the more extensive coverage that commercial auto insurance provides. If you have employees that operate your cars, your commercial auto insurance policy can also cover them up to the limits of the policy.
What does Commercial Auto Insurance cover?
Commercial auto insurance, like your personal auto policy, provides similar coverages such as liability, collision, comprehensive, medical payments (or personal injury protection), and uninsured motorists coverage to South Carolina businesses. However, there are also differences between a commercial auto insurance policy and your personal auto policy that may include eligibility, definitions, coverages, exclusions, and limits.
Most Commercial auto policies are "named driver only" policies, meaning only those drivers listed on the policy can operate a covered auto.
What are the coverages?
Bodily injury liability coverage - pays for bodily injury or death resulting from an accident for which you are at fault and provides you with a legal defense.

Property damage liability coverage – provides you with protection if your car accidentally damages another person's property. It also provides you with a legal defense.

Combined single limit (CSL) – Liability policies typically offer separate limits that apply to bodily injury claims for property damage. A combined single limits policy has the same dollar amount of coverage per covered occurrence whether bodily injury or property damage, one person or several.

Medical payments, no-fault or Personal Injury Coverage – usually pays for the medical expenses of the driver and passengers in your car incurred as a result of a covered accident regardless of fault.

Uninsured motorist coverage – pays for your injuries and, in some circumstances, certain property damage caused by an uninsured or a hit-and-run driver. In some cases, underinsured motorist coverage is also included. This is for cases in which the at-fault driver has insufficient insurance.

Comprehensive physical damage coverage – pays for damage to or replacement of your car from theft, vandalism, flood, fire, and other covered perils.

Collision coverage – pays for damage to your car when it hits or is hit by another object.
How Do I Get Commercial Auto Insurance?
The Morgano Agency can shop around and find the best insurance policy at the best price that fits your needs due to the fact that we are an independent insurance agency. We don`t just provide a one size fits all insurance policy. You can save time by letting us do the work for you as well as being able to feel confident we will find the best prices on your commercial auto insurance policy. One of our insurance agents will first ask some basic questions such as:
type of business you have
location of your business
how long you have owned your business
how many commercial vehicles do you need to be insured
number of drivers that will need to be covered
recent insurance and insurance claim history
Providing The Best Commercial Auto Insurance in Greenville, South Carolina
With so many different insurance options, commercial car insurance can be confusing. Our experienced insurance agents can help you with your commercial vehicle insurance needs in Greenville South Carolina including the Asheville NC, Greer, Spartanburg, Taylors, and Travelers Rest areas. So contact one of the agents at The Morgano Agency for your South Carolina commercial auto insurance needs.