Homeowners Insurance Greenville, SC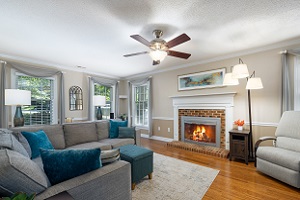 Greenville, SC is a cultural city that is home to many international businesses. This city offers lucrative employment in a number of different industries. CNN Money ranked Greenville in the #9 spot on its list of the Top 10 Fastest-Growing Cities in the United States. As a homeowner in this vibrant and beautiful city, you will need to be sure to protect your investment with a suitable Greenville home insurance policy.
Homeowners Insurance Agency In Greenville, SC -The Morgano Agency
Your home is usually the biggest purchase you will make and is your most valuable asset. If you have any damage, you need a South Carolina insurance agent that will find the best company to fit your needs and settle your claims quickly. At The Morgano Agency, our insurance agents will help you find the right homeowners insurance for your needs by providing quality service and affordable pricing.
What Is A Home Insurance Policy?
Homeowners insurance can help protect your home and belongings if an event covered by your homeowners insurance occurs. The home insurance policy can also provide coverage if you injure someone or damage someone else's property. There are four main functions of homeowners insurance:
Repair or replace your house, belongings in the yard, and other structures.
Coverage for personal belongings.
Pay for you to live in temporary housing while your house is being repaired.
liability coverage if you're held legally responsible for damage or injury to someone else.
Greenville Home Insurance
Greenville homeowners insurance policies will differ on where you live, the valuables in the home, and which coverages you choose. A comprehensive property insurance policy will provide coverage if you have a loss due to fire, theft, or other events, in addition to the event if someone is injured on your property. When it comes to agencies in South Carolina you want to select an independent insurance agency like The Morgano Agency which will find you a home insurance quote from multiple home insurance carriers who provide coverage to South Carolina homeowners. We will provide you will detailed information from each of the home insurance companies so that you have a chance to review your choices. You can review the coverage each one provides and find the best solution for your home insurance needs.
At The Morgano Agency, our insurance agents specialize in South Carolina homeowners insurance, and we can tailor a specific package that is selected based on your personal needs and risks. We have access to many top-rated companies to find you the best fit at a fair price. We can quickly compare rates to ensure you don't have any gaps in coverage down the road. Our agent will be glad to take the time to read over the contents of the home insurance policies to provide you with the info you will need to make an educated decision on choosing the right policy for you.
Homeowners insurance policy coverages in Greenville, South Carolina
Property Coverage - to pay for repairs to your home, garage, or other buildings that are damaged.
Dwelling coverage protects your home's structure, including walls, floors, windows, and roof. Built-in appliances like furnaces are usually included in your dwelling coverage. If your home has an attached garage, porch, or deck, these would be covered by your dwelling coverage, too.
Personal Property - if you have a loss of valuables in your home like jewelry, electronics, or guns due to theft or damage.
"Your personal belongings are what insurance companies call 'personal property. This includes items like clothes, furniture, electronic devices, and appliances that aren't built-in. Most homeowners policies cover these items anywhere in the world, not just inside your house.
Liability - this will cover if there is a claim when someone is injured or their property is damaged.
Personal liability coverage can help financially if you are sued for injuring someone or damaging their property. In most cases, coverage extends to anyone in your household, including pets.
Medical Expenses - this would be medical coverage for someone that is injured, other than a resident, on your property.
Medical payments coverage pays if you cause physical injury to someone outside your household, even if you're not found at fault.
Living Expenses - if you have a complete loss, you may need extra temporary housing or food when you're forced from your home.
If your home is uninhabitable after a disaster your policy covers, loss of use coverage may pay for hotel stays, restaurant meals or other expenses associated with living somewhere else. Sometimes called "additional living expenses," this section of your homeowners policy can come in handy.
Home Insurance Policy Quote
There may also be other coverages that you may want to consider in addition to your basic homeowner's policy. These may include personal umbrella, automobiles flood, earthquakes, or jewelry insurance. Our agents at The Morgano Agency can help you understand your other risks and help you evaluate whether you may need additional coverages in your South Carolina home insurance plan. Our Insurance agents will be glad to provide you with a homeowners quote that is affordable and meets your needs. We will help you with planning for your future and go over the contents of the policies to be sure you feel comfortable with what you would get in an insurance policy.
What Does A Homeowners Insurance Policy Cover?
A typical homeowners insurance policy will cover the cost of repairing or replacing your home and its contents if they are damaged. This usually includes damage caused by fire, smoke, theft, or vandalism, or damage caused by a weather event such as lightning, wind, or hail.
What Doesn`t Homeowners Insurance Cover?
Even the broadest homeowners insurance policy won't cover every potential issue that could arise with your home. For example, if you intentionally damage your own house, your insurer won't be liable to pay for the repairs. Most policies also exclude damage from other causes, such as
wear and tear

neglect

landslides

sinkholes

infestations

floods

earthquakes

nuclear hazards

and government actions
However, you can purchase separate coverage for some of these risks. Flood insurance and earthquake insurance are available separately, and in hurricane-prone areas such as the coastal areas of South Carolina, you can purchase insurance to protect you from Hurricane damage.
How Much Homeowners Insurance Do I Need?
In order to have adequate coverage in the event your home is destroyed, you will need to insure it for the cost of rebuilding. To estimate your rebuilding cost, multiply the square footage of your home by local construction costs per square foot. Your insurance agent can help you calculate the replacement cost of your home if it were to be destroyed in a covered disaster.
Don't focus on the purchase price of your home, your mortgage balance, your property tax assessment, or the price you could get if you sell. If you base your insurance coverage on those numbers, you could end up with too little or too much coverage. Instead, set your dwelling coverage limit at the
Is Homeowners Insurance Worth Getting?
It's important to protect your new home from theft, fire, and even plumbing accidents, which could cost you thousands of dollars in damage. That's why homeowners insurance is a must.
Does Home Insurance Cover Mold?
Your homeowner's insurance policy typically does not cover mold damage. However, if the mold damage is caused by a covered peril, such as flooding, it may be covered by a separate flood insurance policy.
Why Is Homeowners Insurance So Expensive?
Your home insurance quotes may be high for a variety of reasons, including industry-wide price increases, your credit score, the age and value of your home, the type of construction, the location, and the exposure to catastrophes.
What Factors Affect The Cost Of Homeowners Insurance?
There are several factors that affect the cost of homeowner insurance:
1. Where you live - premiums will be higher in areas prone to natural disasters like floods or earthquakes.
2. The price of your home and the cost to rebuild it - obviously, more expensive homes will cost more to insure.
3. The amount of coverage - the more coverage you have, the higher your premium will be.
4. Your home's age and condition - newer homes tend to be cheaper to insure than older ones, and homes in good condition will also cost less to insure than those that are in poor condition.
5. Home security and safety features - homes with security systems and other safety features will typically have lower insurance premiums.
6. Your credit history - insurers will often use your credit score as a factor in determining your premium.
7. Additional types of coverage - if you add on extra coverage like flood or earthquake insurance, your premium will increase
Is Homeowners Insurance Tax Deductible?
One of the main expenses of owning a home is homeowners insurance. This type of insurance is typically not tax-deductible, but there are other deductions you can claim as long as you keep track of your expenses and itemize your taxes each year.
Does The Number Of Bathrooms Affect The Cost Of Home Insurance?
If you added more space to your house by adding a bathroom, the increase in square footage would increase the value of your home, and thus the need to increase your home insurance coverage. It's important to update your policy to include the new additions.
Which Areas Are Not Covered By Most Homeowners Insurance?
In most states, your standard insurance policy does not cover earthquakes, sinkholes, or other earth movements. However, if you live in an area at risk for these natural disasters, you may be able to purchase additional coverage.
Here are some additional lines of insurance that we service:
Beach Homes
High Value Homes
Mortgage
Rental Dwelling
Secondary Residences
Vacation Homes
Greenville Homeowners Insurance
If you have any questions about homeowners insurance or are ready to get started with a homeowners insurance quote contact us today. We would love to find out more about you and your current situation so that we can find the best possible homeowners insurance policy that meets your needs and your financial limits. Our insurance agency would be glad to help in any way we can and also answer any questions you might have about us and what insurance we offer.